We had a family dinner party last night to celebrate Hubby's 40th birthday. Hubby requested Mangia's Pizza (the Jeff's Special is TO DIE FOR) and salad for the meal. I had some leftover Jerked Pumpkin Seeds from the Butternut Squash soup that I made recently and decided to come up with a salad that would work with them. This salad was a MAJOR hit – the guests loved it and there was absolutely not one bite left – a few guests even went back for seconds! This will make a HUGE batch (about 16 servings), so feel free to adjust quantities as necessary to suit your needs. Girl is a big onion fan, so she liked this salad better than Boy. The salad is is still pretty kid-friendly (apples, carrots, sweet peppers), though. If your kids aren't fans of slightly spicy things, you might leave the pumpkin seeds out of the kid portions.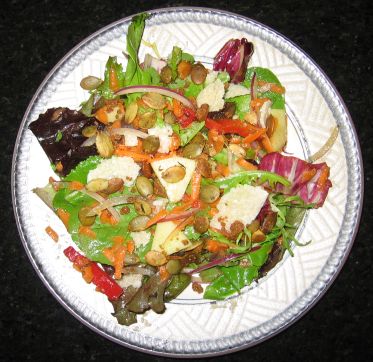 Fall Greens with Pumpkin Vinaigrette and Jerked Pumpkin Seeds
For Salad:
1 pound of your favorite greens or lettuce mixture (the mix that I used had romaine, oak leaf, lolla rosa, tango, chard, mizuna, arugula, frisee and radicchio)
1 roasted red bell pepper, peeled, seeded and cut into slivers
1 large (or 2 small) Granny Smith apples, thinly sliced into bite-sized pieces
1 grated carrot (or about 8 baby carrots, grated)
1/2 small red onion, very thinly sliced into strips
3/4 cup shaved (use a veggie peeler) Parmesan
3/4 cup Jerked pumpkin seeds (see below)
1 batch Pumpkin Vinaigrette (see below)
Gently toss together all ingredients EXCEPT pumpkin seeds, Parmesan and vinaigrette. Pour vinaigrette over salad (you'll probably need all of it) and gently toss again to coat. Sprinkle a little Parmesan and a few pumpkin seeds over each salad serving as it is plated. Pass remaining pumpkins seeds for anyone that likes their salad "extra crunchy" and would like more.
Pumpkin Vinaigrette
2 cloves garlic, minced or pressed
2 tsp. maple syrup
1 tsp. salt
1/2 tsp. freshly ground pepper
4 Tbsp. pumpkin puree
4 Tbsp. apple cider vinegar
8 Tbsp. extra-virgin olive oil
Combine all ingredients except the olive oil into a small bowl. Whisk well. Add olive oil and whisk until incorporated. Makes about 1 cup.
Jerked Pumpkin Seeds
3/4 cup raw pumpkin seeds
about 1/4 cup Jerk seasoning (see below)
1 and 1/2 Tbsp. melted butter
Pour the melted butter over pumpkin seeds, add the Jerk seasoning and stir. Bake at 250 degrees for about an hour, turning and stirring about every 15 minutes.
Jamaican Jerk Seasoning
This is Chef Jeff Blank's recipe from his WONDERFUL book Cooking Fearlessly, I've just cut the quantities down some:
1/2 cup granulated sugar
6 Tbsp. garlic powder
2 Tbsp. salt
1 1/2 tsp. white pepper
1/2 tsp. allspice
1 1/2 tsp. dry mustard
6 Tbsp. onion powder
2 Tbsp. dried thyme
1 1/2 tsp. black pepper
1 1/2 tsp. cayenne
4 tsp. curry powder
1/4 tsp. ground clove
This seasoning can also be used as a rub on meats before smoking or grilling.
I also used it to make Jerked Cashews and Pecans recently for a great cocktail snack (follow the same instructions for making the Jerked Pumpkin Seeds).