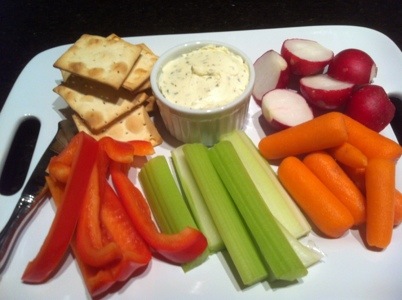 Recipe here. This stuff is flat-out delicious. It tastes exactly like Boursin or Alouette. Fantastic with crackers or spread onto your favorite veggies. Also great as a sandwich spread. I add a tiny bit of dried parsley and a bit of celery salt to the specified recipe.
It has come to my attention that the link posted in this recipe is no longer working, so I decided to post the whole recipe.
Cream Cheese Herb Spread
1 garlic clove, pressed or minced
2 8-ounce packages cream cheese (softened)
1 cup butter (softened)
1 tsp dried oregano
1/4 tsp dried dill weed
1/4 tsp dried basil
1/4 tsp dried marjoram
1/4 tsp dried thyme
1/4 tsp ground black peper
1/4 tsp celery salt
1/2 tsp dried parsley
Stir all ingredients together until smooth (the softer your cream cheese and butter are, the easier this will be.)  Adjust seasonings accordingly.  Sometimes I up the herb amounts just a little and/or add a little sprinkle of paprika.  Cheese mixture may be refrigerated for up to one week or frozen up to three months.
Makes 3 cups.