Black Bean Salsa
/>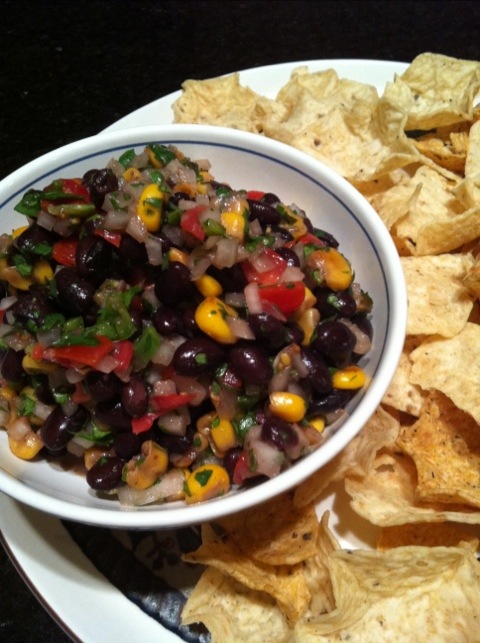 1 16 ounce bag frozen sweet corn, thawed to room temperature and drained
2 Tbsp unsalted butter
3 cans black beans, rinsed and drained (or 2 cups dried black beans, soaked overnight, cooked until tender and drained)
1 large (or 2 small) white onion, finely chopped
one 10-ounce package cherry or grape tomatoes, coarsely chopped
leaves from 1 large bunch cilantro, chopped
3 large jalapeño peppers, minced (Remove seeds from 1 or 2 of the peppers before chopping to control the spiciness; the "heat" is in the ribs and seeds.)
1/2 cup apple cider vinegar
1/2 cup fresh lime juice
salt to taste (start with about 3/4 tsp)
Heat the butter over high heat in a large sauté pan until foamy. Add the corn and cook, stirring occasionally, until corn is browned and very fragrant.
Place corn in a very large mixing bowl and add all remaining ingredients. Toss gently to combine. Adjust seasonings to taste. Feel free to add a little cumin or a minced garlic clove or a little Adobo seasoning or chili powder, if that suits your taste. Of course, you can always adjust the proportions if you prefer less onion, more
tomato, etc.
Serve with tortilla chips (these are fun and hold lots of chunky salsa) or use
in quesadillas, soft tacos or nachos.
This recipe makes a HUGE batch, fit for a large BBQ or potluck, but it keeps well in the fridge for a couple of days or the quantities are easy to adjust, if you'd prefer to make a smaller batch.