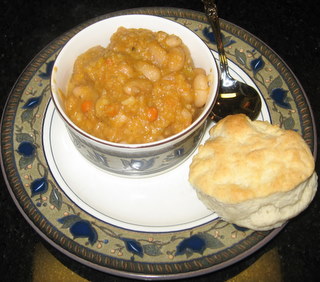 2 cups dried mayocoba (also called azufrado) beans
2 Tbsp. olive oil
1/2 of a large white or yellow onion, finely chopped
1 large bell pepper, diced
5 garlic cloves, pressed or minced
1/2 cup celery, finely chopped
1 cup carrots, chopped
1/2 tsp. dried oregano
a small sprinkle (1/4 tsp?) ground cumin
1 tsp. chili powder
4 cups (or perhaps a little more) chicken stock
salt and pepper to taste, or a sprinkle of Baby Bam seasoning
Optional: a sprinkle (1 tsp.?) dried epazote, if you can get your hands on some. You (and your loved ones) will thank me later.
Cover the beans with water and soak for 24 hours, draining and rinsing the beans and replacing the water frequently (3 or 4 times) during that time. After 24 hours, drain and rinse beans a final time and then put them in a large stock pot. Add chicken stock, chili powder, oregano, cumin and epazote (if using) and begin to cook over medium-high heat, covered, stirring occasionally.
Heat oil over medium-high heat in a very large saute pan. Add garlic, onion, bell pepper, carrot and celery and cook, stirring frequently, until vegetables are softened. Add vegetables to the beans in the stockpot and lower heat to a simmer. Simmer, covered, for at least an hour, stirring occasionally, until beans are tender, adding more stock, if necessary.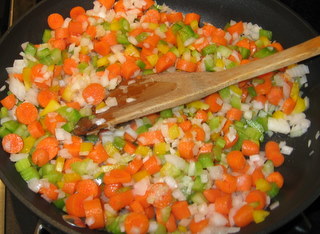 If desired, you may puree the soup to make a thicker, creamier soup, or you may serve it as is. We chose to puree part of it with a submersible blender, but still leave some beans intact. It turned out pretty thick, more like a stew, but we enjoyed that. I you want it "soupier", then just add a bit more stock during cooking.
The verdict: pretty yummy and would work with almost any kind of beans. Would also be good with some diced ham or shredded, cooked chicken added to it at the end.