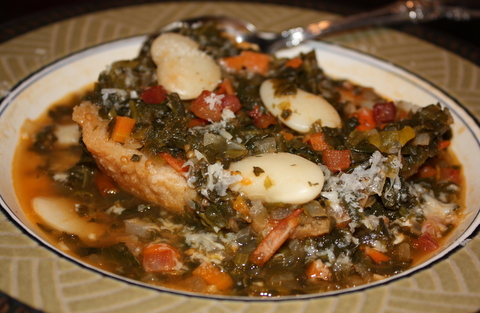 Another delicious Giada recipe. Recipe here.
I adapted this soup to be flexitarian by using veggie broth instead of chicken and by cooking the pancetta separately and offering it as a garnish on the side, rather than cooking it in the soup.
I also used gigante beans, instead of cannellini beans, because I had some on hand that needed to be cooked and used up. I also had already used my Parmesan rind for a previous batch of soup, so just sprinkled Parmesan on top of each individual bowl, instead.
This was quite tasty and came together very quickly. It did require quite a bit more stock (almost double) to get the soup to a liquid enough consistency and my ciabatta (which was bought this morning, so very fresh) took more than the suggested 5 minutes (about 8 or so?) to toast adequately, so your mileage may vary…
I prefer this Herbes de Provence blend, which is easy to mix up quickly and keep on hand, plus I added a little extra oregano.