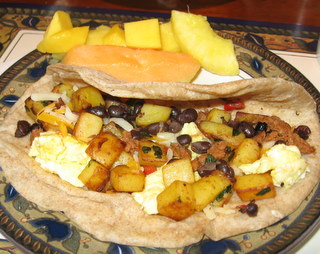 I know that I've posted something very similar here before, but I thought I'd add this one, too, since I home-fried the potatoes this time and used a couple of different ingredients.

Breakfast Tacos
1/2 of a 12 ounce link of chorizo sausage
(you'll only need half of this, so you'll have some leftover for another use)
2 -3 Tbsp olive or canola oil
1/3 cup of fresh minced onion (red or white, your choice)
2 cloves garlic, pressed or minced
2 medium-sized potatoes, peeled and cut into half-inch dice
(I used Yukon Golds)
1/2 of a red bell pepper. finely diced
about a 1/4 cup finely chopped fresh spinach
half a can of black beans, rinsed and drained
(I used the other half of the can leftover from making tortilla soup)
about 1/2 cup grated cheese (we used a blend of jack and cheddar)
6 large eggs
8 fresh whole wheat tortillas
Heat oil over medium-high heat in a large skillet. Add garlic and onions and saute briefly until softened and translucent. Add potatoes and stir until they are lightly coated with oil. Continue cooking potatoes, stirring occasionally until they are softened and browned all over. While potatoes are cooking, start to cook sausage. I cooked the sausage on the grill and then removed the casing, but you could also take it out of the casing beforehand and then brown it, like hamburger meat, in a separate skillet. Either way, you need to blot or drain the grease off; chorizo is pretty greasy.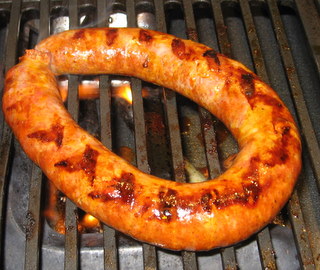 When the potatoes are pretty well browned on all sides, add the bell pepper and spinach to them, lower the heat a little and continue cooking until both vegetables have wilted.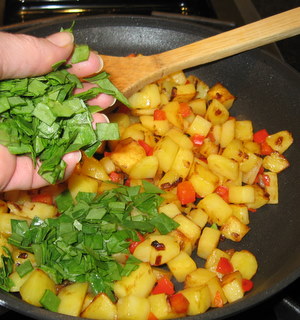 When the veggies have softened, add the black beans and continue cooking and stirring. When the sausage is done (remove it from the casing and blot and crumble it if you've grilled it), add half of it to the potato mixture and stir.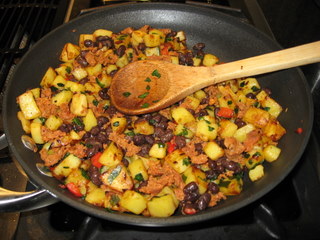 Scramble the eggs in a separate pan (or in the pan that you cooked the chorizo in, using a bit of the sausage fat to cook them). Fill the tortillas with some of the potato mixture, some of the scrambled eggs and a bit of the cheese. Serve with some tropical fruits (we had mango and pineapple). Dig in!
NB: This time we scrambled the eggs separately, because Hubby was afraid that Boy and Girl would balk at the blend of different ingredients in the potatoes (they didn't). So, the next time that we make this, I would probably just crack the eggs into the potato mixture and cook and stir until they are done and then just have all of the filling ingredients mixed together.