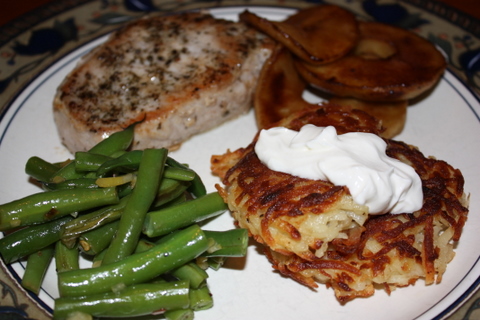 Pork Chops and Apples recipe here.
Potato Pancakes recipe here (we served them with sour cream and they were fantastic!)
For the green beans, I was inspired by this recipe (which I've made before) and another one with preserved lemon in Madhur Jaffrey's awesome World Vegetarian cookbook and combined them and adapted them to make my own, which was quite delicious.  Ideally, the beans would be a little more browned that the ones in my photo, but these were still good.
Spicy Green Beans with with Garlic Oil and Preserved Lemon
1 pound fresh green beans, washed and cut into 1 1/2 to 2 inch long pieces
2 or 3 garlic cloves, thinly sliced (think Paul Sorvino in Goodfellas)
2 Tbsp olive oil
1 wedge of preserved lemon (Use the rind only; remove and discard the pulp), rinsed well and finely chopped
(If you don't want to make your own, you can buy preserved/Moroccan lemons at a gourmet store.  They are VERY simple and inexpensive to make, but they do have to sit for a while.)
a sprinkle of red pepper flakes, to taste (start with 1/4 tsp.)
kosher salt and freshly ground black pepper
Blanch green beans by covering them with cold water in a medium saucepan.  When they come to a boil, drain them and soak them in ice water until they are cool.  Drain them again and set them aside.
Heat the oil in a large saute pan over medium-high heat until hot but not smoking.  Add the garlic and cook, stirring constantly, until the garlic is lightly golden-toasted, but not brown.  Quickly remove and discard the garlic.
Add the green beans to the pan and cook, stirring only once or twice, until the beans are slightly softened and lightly browned in spots, but not mushy.  You'll need to watch them carefully, since they won't brown if you stir them too much, but if you don't toss/stir them enough, they'll scorch or stick to the bottom of the pan.
When the beans have reached your desired doneness, sprinkle them with salt and pepper, add the chili flakes and lemon and stir to coat evenly.  Remove from heat and serve.