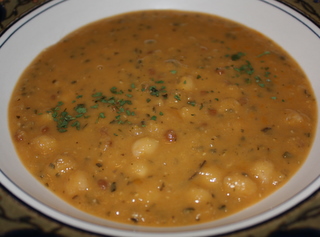 This recipe is, again, from Madhur Jaffrey's wonderful World Vegetarian book.
The recipe can be found, more or less, here, but you really should just buy the book to get the more comprehensible version.
This was really tasty.  We only had a tiny bit left over for Girl's lunch the next door.  If dried mint is really hard to find (as it was for me,) feel free to use fresh spearmint (not peppermint,) but chop it finely and use less than the recipe calls for (maybe half?)  I buy my dried mint (which can also be used in this salad) from Penzey's.