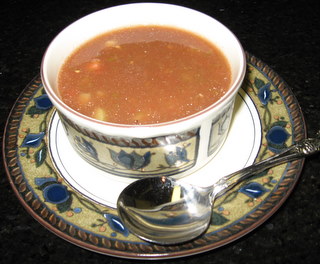 Girl and I LOVE Gazpacho. It's one of her favorite foods and she is always excited when I tell her that I'm making it. We wait all year for summer (and beautiful tomatoes!) to arrive. To be worth the effort, you have to have GREAT tomatoes – in season, bought locally, and deliciously ripe. That is key. If you go to all of the effort to make this with inferior tomatoes, you will be disappointed with the result, I assure you. The recipe itself is VERY flexible and up to your own personal taste.
Summertime Gazpacho
All ingredient amounts are approximate and flexible!!!
3 pounds ripe tomatoes
1 large (or 2 small) green bell peppers
2 medium-sized cucumbers (or 1 very large)
6 large garlic cloves, minced or put through a garlic press
2 Tbsp. olive oil
1 Tbsp. balsamic vinegar
1 tsp. salt
1/4 to 1/2 tsp. freshly ground pepper
a little sprinkle (1/4 to 1/2 tsp. to taste) smoked Spanish paprika, also called pimenton
(This is sold at gourmet stores like Williams Sonoma, etc., but is also carried at some major grocery store chains. McCormick's makes one, but they call it smoked paprika, rather than pimenton – read carefully – the label looks only very slightly different from the regular paprika.)
Remove peels from tomatoes:
If they are very ripe, the peels can be stripped off by hand, just by getting the edge started with a paring knife (kind of like peeling a hard-boiled egg?). If the peels are more stubborn, you can cut a shallow "X" (about an inch across) into the non-stem end of each tomato, then submerge them in boiling water for a minute or so, to allow the skins to loosen. After removing from the boiling water, place them immediately into ice water to cool before draining and slipping the peels off.
Finely chop about 1/2 cup of the tomato and reserve it, put the rest in a large, glass bowl.
Peel and seed the cucumbers. Dice and reserve about 3/4 cup of it and set it aside. Put the rest in the bowl with the tomatoes.
Finely chop about 1/2 cup of the pepper and set it aside. Put the remaining pepper in the bowl with the tomatoes and cukes.
Add the garlic, salt, pepper, pimenton, oil and vinegar to the veggies in the large glass bowl and puree, using an immersion blender. If you don't have an immersion blender, you may do it in batches in a regular blender. Add the reserved, chopped veggies and stir them in.
Adjust thickness, if necessary:
Some recipes call for a little bit of tomato juice or beef broth to make the soup thinner, some (like this one on Epicurious) call for breadcrumbs to make the soup a little thicker. I usually find that the texture is OK with just veggies, but just in case….
Pour back into the glass bowl. cover and refrigerate at least 2 hours before serving. Will keep almost a week in the fridge and gets better as the flavors sit and meld together.
Possible adaptations:
This recipe can be changed around lots of ways; I never make it EXACTLY the same way twice. If you like it smoother, you can puree the whole thing; if you like it chunkier, you can have more chopped veggies and do less pureeing. If tomato seeds skeeve you out, you can remove the seeds before pureeing. I don't personally believe in adding canned ANYTHING (V8, tomato juice, tomato paste, etc.) to gazpacho, because I believe that the fresh taste is the best part of this dish, but do what suits YOU.
Other good additions, if you're so inclined:
a little (1 to 2 Tbsp.?) very finely chopped fresh Italian parsley
a little chopped fresh oregano or basil
finely chopped purple onion
a little jalapeno and/or cilantro for a Southwestern version
a little cubed avocado stirred in before serving
a little freshly squeezed lemon or lime juice (cut back on the vinegar a bit?)
black beans or small garbanzo beans
Garnishing options:
thinly sliced avocado
a drizzle of olive oil and/or balsamic vinegar
a tiny bit of sour cream or creme fraiche
fresh chopped herbs: basil, parsley
croutons (or Goldfish crackers, for kids)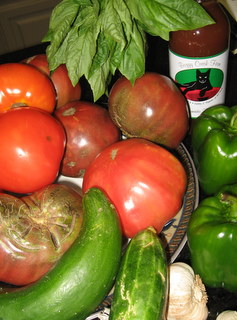 Gazpacho Ingredients, fresh from the farm