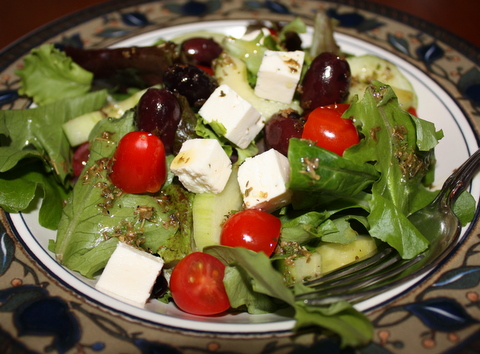 Adapted from a recipe from our friend, A.F., who adapted it from a recipe in the Pittsburgh Steelers cookbook.  It is flavorful and delicious and can be a salad course, but is also hearty enough (add a loaf of crusty bread) to be a meal on its own.
Greek Salad
1 head leaf lettuce (or 5 ounces packaged baby greens)
1 6-ounce package crumbled feta cheese (or a 6-ounce block, cut into small cubes)
1 12-ounce jar Kalamata olives, drained
1 1/2 cups grape tomatoes (cut in half, if desired)
1 seedless cucumber
(peeled, cut in half lengthwise, seeded and sliced into half-inch wide half-moons)
Dressing:
1/4 tsp. black pepper
1/4 tsp. garlic salt
1 heaping Tbsp dried mint
1 heaping Tbsp dried oregano
6 Tbsp extra-virgin olive oil
3 Tbsp freshly squeezed lemon juice
Lay lettuce or greens in the bottom of a very large salad bowl.
In a small bowl, whisk together the herbs and spices, and lemon juice.  Pour the olive oil in, in a slow stream, whisking constantly and quickly until fully incorporated and slightly thickened.
Pour desired amount of dressing over salad (you may not need it all) and toss gently to coat.  Top with tomatoes, cucumbers, olives and feta.
Serve immediately.