Restaurant Review
We've heard about Enrique's Restaurant (in the Ponca City, Oklahoma airport) over the years, from numerous friends. We had heard that it was really good (run by some San Antonio ex-pats) and had really yummy, unusual tortilla chips and great food. Since we were driving near Ponca City on our way home from visiting friends in Wichita, KS, we decided to drop by and give it a try. I grew up with parents that planned our summer road trips around this book, so this doesn't seem out of the ordinary to me.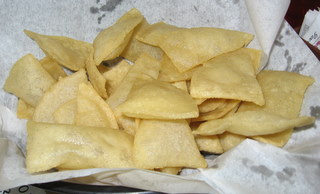 The basket of chips, which were "puffy", almost like little savory sopaipillas. The salsa was yummy and fresh, too, although it had a little more "heat" than I normally like (Hubby LOVED it).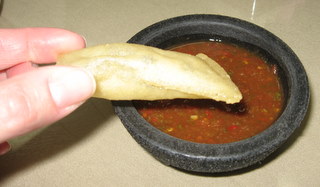 Here's one of the chips close up. They were almost chewy, rather than crunchy, like your everyday chip.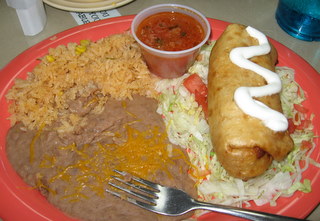 My chicken chimichanga.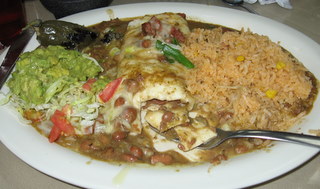 Hubby's burrito.
Overall, a thoroughly enjoyable meal. Very Tex-Mex-y, which is how we like it. The service was INCREDIBLE – super friendly and attentive. You can see the runway from the dining room, but being Ponca City, there weren't a ton of planes taking off, so don't go expecting to see lots of traffic. So, if you happen to find yourself in Ponca City, it's worth a stop in.