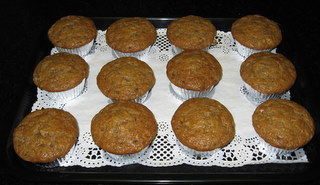 This recipe (a HUGE favorite in our family) comes from my friend, Anita, in Northern Virginia. She also adapts this recipe to make Zucchini Bread, but I'm currently sans garden and subsequently, sans good, fresh zucchini, so we just stick with bananas.
Banana Spice Muffins
1/3 cup softened butter
1 cup sugar
2 eggs
1/4 cup water
2 large (or 3 small) very ripe bananas, slightly mashed
1 2/3 cups flour
1 tsp. baking powder
1 tsp. baking soda
2 tsp. cinnamon
1/4 tsp. nutmeg
1/4 tsp cloves
for optional cinnamon topping:
1 Tbsp. cinnamon-sugar (Optional)
1/2 cup coarsely chopped nuts (Optional)
Stir butter, sugar, eggs and water together until well blended (I use a KitchenAid mixer). Stir in bananas. Mix in flour, soda, baking powder and spices. Pour into 12 muffin cups (lightly greased with Pam or lined with paper or foil muffin cups) or one regular-sized loaf pan. Top with nuts and cinnamon-sugar (if desired) and press topping lightly into batter. Bake at 325 degrees for about 20 minutes (or 40 minutes or so for a loaf pan) or until a toothpick comes out clean and tops are golden brown.