You can't have a family-friendly cooking website without a cream-of-something soup recipe, right?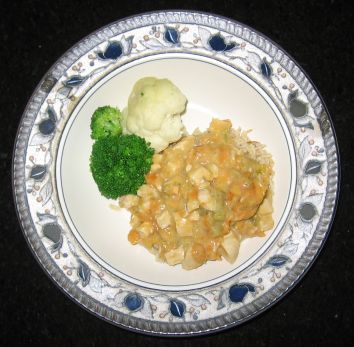 I truly can't believe that I made this dish tonight. I'll try to explain:
A million years ago (well, OK, 15 1/2 years), when we were first married, some friends introduced us to this dish. Hubby liked it and I did, too, I'm embarassed to say. We actually ate this once a month or so back then, but our tastes have matured and I haven't made it in at least 8 years. Our children, ages 9 and 11, had never had this dish, indeed, I could probably count the number of times that either of them has had Doritos on one hand. Anyway, Hubby's birthday was yesterday and his joking response when I asked him what he'd like for his birthday dinner was "Dorito Chicken". He assured me, later, that he really WAS joking, but I decided to call his bluff and make it, anyway. I thought it would be an interesting experiment to see what we thought of it now – and to see what the kids thought of it. Our friend, Staci, actually was brave (misguided?) enough to serve this the first time that she invited Robert (her future husband) over for dinner. This dish, when executed according to the recipe, actually looks like vomit. In spite of this, Robert and Staci are still married (about 15 years later?) and have 2 beautiful, sweet, smart children. I actually still have the original recipe, written in my friend Staci's handwriting, with her warning that if I try to add sour cream, salsa or cilantro (or anything else not offically sanctioned by the original recipe), the recipe would have to be forgotten and returned.
Dorito Chicken
1 large bag Nacho Cheese flavored Doritos chips (you won't use all of them!)
4 chicken breasts
1 can Cream of Mushroom soup
1 can Cream of Chicken soup
2 or 3 (you decide) small (4.5 oz) cans chopped green chiles
3/4 cup shredded sharp cheddar cheese
Cooked rice or pasta
Simmer chicken breasts in water in large stockpot until cooked through. (I couldn't resist the temptation and added all of the necessary ingredients to make chicken stock: carrot, onion, celery, parsley, peppercorn, thyme, bay leaf, a little white wine. I might as well get SOMETHING gourmet out of this meal!) Remove chicken from pot, reserving broth. Allow chicken to cool and then dice it into small pieces. Preheat oven to 350 degrees. Slightly crumble enough Doritos to make about 3 cups of Dorito "pieces". Spread these on the bottom of a baking pan (9 X 13 or so). Mix together diced chicken, soups and chiles and 1 cup of reserved chicken broth. Pour mixture over Doritos and bake, covered with foil, at 350 degrees for 30 – 45 minutes (until cheese is completely melted and mixture is heated through). Remove from oven, stir completely and serve over cooked rice.
Dorito Chicken after being baked (I used natural white cheddar, so you can't see the bright orange cheese like you could when I made this as a newlywed.)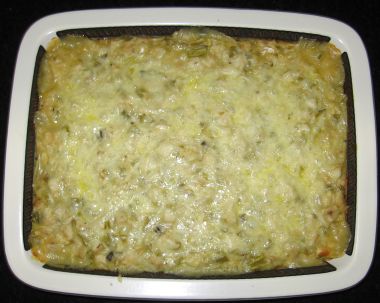 Dorito Chicken after being stirred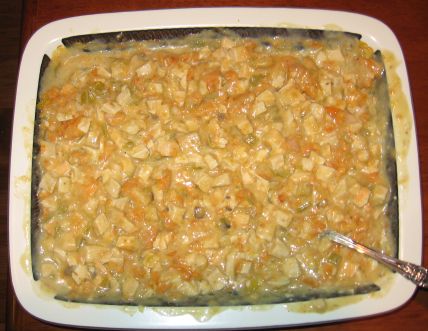 The verdict, after (re-)tasting? It's actually not bad, for a comfort-foody-type casserole. It would be a great meal to prepare for an evening when you're going out and want to leave something home-made for your kids and the babysitter. It's also not bad for a super-busy weeknight, when you need something that can be pulled out of the oven after soccer practice, a volleyball game, piano lessons, etc. For grown-ups, you'd want to add a pretty salad or nice fresh veggie, but it's actually quite palatable and VERY easy. It could, obviously, be prepared ahead and baked later. Hubby, who has a cast-iron stomach, doused the dish in Huy Fong Sriracha, as he does EVERYTHING, but he did seem, in spite of his protestations that he was joking, pleased that I had made this for him.