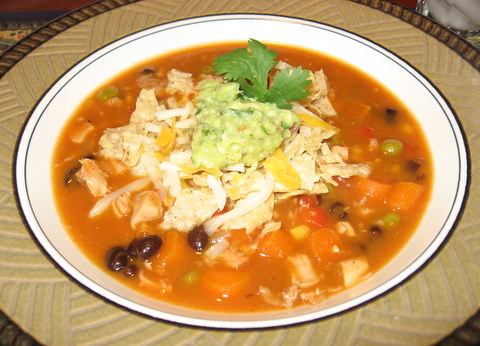 This company used to make a Chicken Enchilada soup mix that Boy used to LOVE. They stopped making it a couple of years ago, so I've been experimenting with re-creating it. Boy has always loved soups, ever since his class made Stone Soup in preschool. I like my tortilla soup version better now, because I have more control over the ingredients (no chemical additives) and can use organic ingredients. I can also control the blend of spices better (although Hubby always adds more!).

Chicken Tortilla Soup
about 1 Tbsp oil (canola or olive)
3 or 4 cloves garlic, peeled and run through a garlic press
1/2 cup finely chopped white onion
1 – 2 Tbsp. chili powder
sprinkle of ground cumin
1 tsp. dried oregano leaves
small sprinkle of pimenton (smoked paprika)
one rotisserie chicken
1 cup tomato sauce (or the other half of a can that you used to make sloppy joes)
about 6 cups chicken stock
1 cup coarsely chopped carrots
about 1/2 cup frozen peas
about 1/2 cup frozen corn
about 3/4 cup canned black beans (about half a can), drained and rinsed
1/4 cup masa harina flour (great for thickening, it's used for making tortillas and chili – check the hispanic foods aisle at your supermarket)
optional: a little sprinkle of finely chopped cilantro
optional: one small can of chopped green chiles
for garnish:
1/2 cup grated cheese (a blend of jack and cheddar is good)
1/2 cup guacamole
approximately 1 cup slightly crushed corn tortilla chips
optional: a dollop of sour cream or little decorative cilantro leaf
Pull the chicken breasts off the chicken and reserve (or freeze) for another use. Remove all remaining meat from the chicken, chop into bite-sized pieces and set aside.
Heat the oil in a large pot over medium-high heat. Add the onions and garlic and saute until softened and translucent. Add the carrots and saute a few more minutes until slightly softened. Add 4 cups of the chicken stock, tomato sauce and spices and bring to a gentle boil. Lower heat and simmer while adding peas, corn and chopped chicken. Let simmer for about 10 minutes, adding more chicken stock, a little bit at a time, if necessary and stirring occasionally. Remove about 1 cup of the broth and place in a bowl with the masa, whisking or stirring to blend completely. Pour masa-broth mixture back into the simmering soup and allow to simmer for a few more minutes, stirring occasionally, until soup is beginning to reach desired (slightly thickened) consistency. Add more broth, if necessary. Add beans. Add chiles and cilantro (if desired). Stir gently until beans are warmed and all ingredients are well incorporated and then serve!
Makes 4 very large or 6 reasonable-sized portions.
When serving the soup, top with some grated cheese, crumbled tortilla chips and a dollop of guacamole or sour cream.