Basil-Lime Martini – This is not a "kid" recipe, I know, but this is the best cocktail EVER, so I had to share!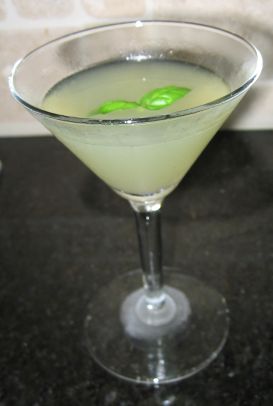 Basil-Lime Martini, adapted from Boston restaurant Via Matta's recipe published in Food & Wine Cocktails 2006 . This is a great light, refreshing Summer drink.
3 large basil leaves
1 small basil leaf or a very small "cluster" of basil leaves for garnish
2 Tbsp freshly squeezed lime juice
5 Tbsp of your favorite vodka (I recommend Tito's.)
3 Tbsp water
3 Tbsp sugar
Simmer sugar and water together in a small saucepan until slightly thickened and just barely syrupy. Cool. Tear large basil leaves (reserve the small ones) lightly and add to sugar mixture. Muddle (smash) together until leaves are well bruised. (This is much easier if you have a "real" muddler, but you can also use a wooden spoon or potato masher, etc.) Add lime juice and vodka. Chill (with ice) in a martini shaker and strain into a pre-chilled martini glass. Add small basil leaf garnish.
I like to keep big batches (I think I've made a 20-batch before!) of this in the freezer, and pull them out when we have friends over. It lasts a long time in the freezer (remove basil leaves before freezing) and won't freeze, so it can be poured straight from the freezer (shake first, because the lime juice and syrup will settle to the bottom).
I also like to keep a few petite martini glasses in the freezer, so they'll be nice and frosty. I looked for a long time to find some that I really liked. They needed to be sturdy enough to go in the dishwasher and small enough to go in the freezer easily. I finally found these at a restaurant supply house – perfect! I did have to buy a whole case (3 dozen) of them, but we'll be ready to go for our next big party!