The most spoiled cats in the world!
I apologize for the self-indulgence; I know this isn't food-related, but I was just so envious, looking at my cats today, that I had to share this image: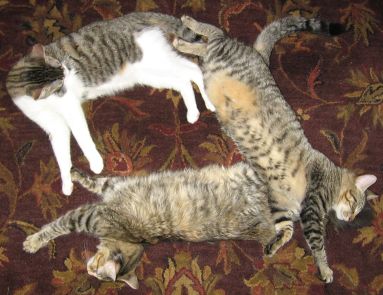 Wouldn't you love to be able to lounge around aimlessly like that?
These cats are all siblings (we adopted the whole litter from some friends that found themselves with an expectant mama cat). Ace is the guy with the white feet on the left, Jack is the big guy on the right and Queenie is the fluffy girl on the bottom. They are 6 months old and provide us with endless hours of amusement.